Dear Fellow Logisticians,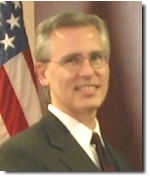 As President of SOLE – The International Society of Logistics during its 44th year, I welcome you and invite you to join me on a brief glimpse into our origins.
The Society's first symposium featured an address by Dr. Werner von Braun, who envisioned a future where logisticians would become the foundation upon which many things became possible.
This was fitting, since he was an impetus to SOLE's founding. If we are to have a human presence in space, we need to ensure that we can sustain the equipment, and create and maintain logistics processes; therefore, he suggested that a group be established to facilitate a gathering of the wisest logistics minds on a recurring basis to discuss how to do this and much more.
And what is that "much more?" I deeply believe that logistics actually has the power to transform communities, societies and nations.
While logistics encompasses transportation systems, developing better packaging to reduce breakage, conducting logistics support analysis, influencing engineering designs for maintainability, shrinking resource requirements through optimized supply chains, or improving embedded diagnostics – it is much more. It takes an effective logistics system to distribute crank-powered computers to impoverished Central African children; efficient logistics ensures that equipment and medicines safely and affordably arrive on time for volunteer doctors performing field surgery to restore sight to the elderly in Southeast Asia; it is well-planned logistics that helps humanitarian homebuilders restore dignity to American storm victims; it is logistics that keeps defense service members safe by having reliable equipment.
Let me share what I mean in a more internalized way. As member of SOLE, I …
…recognize a deep obligation to humankind to help conserve the world's resources and increase the efficiency of business methods, industrial processes and public services.

…acknowledge a duty to use all the knowledge and skills at our command to assure that the basic necessities of human life – food, health care, education, energy, housing and public services – are efficiently produced and distributed in the required quantities at an equitable cost.

…recognize an obligation to help increase the effectiveness of logistics management, raise the productivity and reduce the costs of industrial and public service support systems, and develop and conserve scarce material resources for the benefit of all humankind.

…resolve to undertake vigorous promotion of progressive programs, in cooperation with educational and other institutions in all lands, to improve the knowledge, skills and social awareness of logisticians, educators and executives in the efficient management of physical and human resources.

…resolve to exercise professional vigilance in the quality, reliability and safety of products and services to sustain civilized life.
Does this sound like a contemporary, green-oriented, humanitarian commitment? It is actually an excerpt of SOLE's Professional Pledge that was written over forty years ago. How prescient were our founding members!
Decades before "green" was trendy, SOLE recognized that the logistics footprint should be practicable, small and clean. Years before "Supply Chain Management" emerged as a popular focus, SOLE recognized the efficiencies inherent in faster, safer and less resource-intensive supply, repair and distribution processes.
And from its inception, SOLE recognized the extraordinary power of education, training, and professional networking to transform.
Local chapters, regional workshops and forums, and the national symposium provide opportunities for your professional development. The Logistics Education Foundation funds SOLE scholarships for your pursuit of higher education in a logistics discipline. SOLE's annual awards program recognizes your logistics achievements. Designation and certification programs help to grow your skills and knowledge. The Logistics Spectrum journal publishes your professional papers. The SOLE Press offers books to help improve your logistics acumen.
And so … I invite you to join SOLE, participate in our meetings and gatherings, read our publications … and contribute – your time, your knowledge, your enthusiasm, your donations, your writings – and become part of the collective wisdom that transforms.
Sincerely,
Timothy H. Overstreet, DML
President
SOLE – The International Society of Logistics